My Years at Miniature Trading By the Numbers
Original thread started at Miniature Trading on December 25th, 2016
2016
Just a random thread idea I had. Not expecting many posts here, but it's fun to look at. At least I think so. 

The plays are almost in two groups of three (rising consistently from 2011-2013 and 2014-2016), mostly because of 2014's down year and a huge year this year. In addition, 2011 was about 7 months for me rather than a full 12. My trades were pretty consistent until I exploded in December 2014/January 2015. I highly doubt I'll ever match that burst of activity. The fleets and miniature reviews are a bit random, but I've been more active lately with those and of course teaching new players.
I keep track of my plays at BGG, which is why I have such detailed numbers. The fleets, miniature reviews, and trades are all easily accessible from your profile here at MT, while the players taught is more similar to plays and is tough to have high numbers in heh.
The averages work out pretty nice – a little over 50 games a year, a fleet submission at least once a month, trades scattered throughout the summer and winter, and a miniature review once in a great while.  🙂
According to a google spreadsheet Xerecs and I have been using for various things, 63 games out of 91 (69%) were played on VASSAL. There's a chance I also missed recording a few in the doc, in which case the percentage would be slightly higher.
Found another reason to post here! I finish the year at 92 plays and 27 trades.
From my plays at BGG, I can figure out how many games I've played in each month of the year, and then calculate which seasons of the year have the most plays.
For the seasons, I simply did 3 month blocks. Spring (March-May), Summer (June-August), Fall (September-November), Winter (December-February).
The disparities are interesting: of my 341 total plays, only 18 have come in the March-May window, making the spring by far my least common time to play Pirates. Fall would be similarly low if not for the whopping 48 games I played this past September and October alone, mostly as a result of T1. If not for August the three winter months would be the three highest single-month totals. I'm slightly surprised by how much higher the winter is than the summer, though almost all of my campaign games have occurred in the summertime, which still only count as one play each. Hopefully T2 will allow my big January and February numbers to climb even higher!
2017
A year later, and time to fully update my stats.

It was another big year for playing, as I set a personal second best in games played, barely surpassing the total from 2013. It was a REALLY big year for fleets, as I submitted a whopping 16 fleets between June 21st and June 22nd. 
 My yearly total of 37 fleets submitted is by far my new personal record, and continues the "fleet explosion" seen since 2015. I do notice a trend though – since 2013, my fleet total increases by about a dozen on the odd years (12-24-37), but then dips on the even years. 2018 will likely continue that trend, with my creative energies temporarily exhausted. XD
The long slow trading decline continued as well, as I continue to flesh out my collection and don't need as much stuff. There were some nice additions though, including the Guichuan and various stuff that saw action in Command the Oceans.
I also set a new personal record for miniature reviews. The 8 does include my first ever review of a custom game piece. I was disappointed not to teach more players, but the campaign games (Command the Oceans and VASSAL CG3) are just so fun.
As for my 2018 goals with these numbers, I hope to continue averaging around 50 plays a year (although, I'm basically averaging 60 per year after the 168-game flurry of the past 2 years XD). For the fleets and trades, I'd just like to see double digits. MR's come and go, so I'm not overly concerned about those. I definitely want to teach more than 7 players to set a new personal best, and naturally my inclination for campaign games should lead to at least one new one of those.
Here are my 2017 plays by month, with February, July, and December unsurprisingly the busiest months. I was disappointed that March ended my active months in a row streak of playing at least one game of Pirates (at 28!), but I hope a new streak has started as of November 2017. (October was a little weird due to CTO)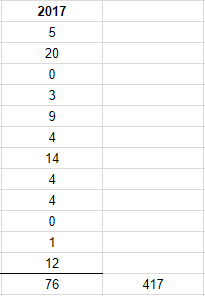 And finally my cumulative monthly totals. The disparity between the summer/winter months and those of spring/fall only got bigger. Every month other than October and November has more plays in it than the entire spring season of March through May! It was another big February, which now has almost twice as many plays as any other month.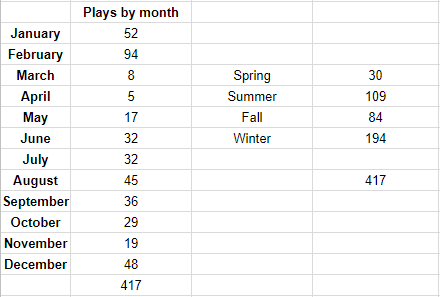 2018
As I discussed in my 2018 Year in Review, 2018 was an absolutely DISMAL year for Pirates.  I anticipated that somewhat in terms of numbers because it was the first year since 2015 without tournament play, and I'm so content with my collection that trading almost feels unnecessary (thanks VASSAL!  XD).  Although my plays were WAY down, I started three campaign games and those are my favorite type of game by far.  After massive explosions in my fleet and review numbers, it was only natural for them to fall back a lot, especially once Miniature Trading's demise became a possibility in late August 2018.
I'm anticipating changes in 2019 that may even drive some of these numbers further down, but I've kind of "been there, done that" in terms of producing the above types of content for this game.  I'd like to focus on campaign games and making the game more popular rather than endless fleet ideas and small games.  My per-year averages will naturally fall quite a bit over time, but I can always compute stats for specific periods of time, such as the ridiculous run from 2015-2017.  In addition, I think I'll start adding new stats: numbers for youtube videos produced (231 in 2018), podcasts recorded (24), and (less likely) Instagram posts.  Those three categories all had strong years in 2018, and they're much more impactful and helpful to the community than my plays or fleets anyway.
Thanks for checking this out, and feel free to share your own stats for Pirates CSG!
-Admiral A7XfanBen