This is a collection of all the legal research and outreach I've done regarding the patents/rights/IP to Pirates CSG and things related to it.  As new developments or findings come in I plan to update this post with the most recent stuff at the top.  Feel free to contribute your own findings and facts in the comments.
Wizards of the Coast (WotC) has this patent (# 7201374) on the Constructible Strategy Game (CSG) concept.  It is set to expire on 10/20/2023.  Here are a variety of links related to it.  Edit (3/7/2023): I emailed Wizkids about if they had any intention of bringing the game back, and got a response back that "we do not have any future plans but we advise you to look for future announcements!"
.gov version
WotC Announces CSG Patent
WIZKIDS SUES WIZARDS Over 'CSG' Patent
WOTC, WIZKIDS SETTLE LAWSUIT | WizKids Gets License for PocketModel Game | Posted by ICv2 on June 25, 2008 
2008 thread on HCRealms
Wizards of the Coast Awarded Patent for Constructible Strategy Game  (May 22nd 2007)
Civil Action No. C07-0809MJP
Wizkids' Civil Action Complaint for Declaratory Judgment against Wizards of the Coast
GamingReport: WizKids files suit against Wizards of the Coast concerning CSG Patent
Dungeon Crawlers forum thread
Pirates, Transformers and lawyers, oh my! (article from June 2007)
HCRealms thread
WotC Strikes Again: Patents the CSG (interesting thread where I originally found the Civil Action complaint document; timeline)
WOTC'S LOREN GREENWOOD ON NEW PATENT | 'CSG' Is a 'Generic Term'
Thread on Slashdot
Wizkids Sales Decline (2006)
This is from February 7th, 2019:
From Mike Selinker, one of the original game designers:
This quoted section is how this all started for me, back in the summer of 2016.
I've looked at the patents that Wizkids had/has a few times now. Being relatively young and rather inexperienced with this sort of thing, I have some questions:

-Is this the best place to go for locating the patents that are relevant to Pirates CSG?

On that list of 12, only the bottom/least recent 5 were filed before Pirates went into production. However, I can't seem to find much info on which patents are relevant to Pirates specifically.

I'm trying to figure out when the patents related to Pirates expire. I started with this, and also found this patent term calculator.

This patent seems to list the first two (bottom in the list) patents of the 12 as being relevant to Pirates.

Then I went to http://portal.uspto.gov/pair/PublicPair and pasted 6,899,333 as the patent number with 10243980 as the application number. I don't really get most of the tabs, but based on the faq/information stuff in the links from a few paragraphs above, it seems that the patents expire if the maintenance fees aren't paid on time. Also, patent number 6,899,332 has two expired "parents"; does that matter?

Also, it appears that anyone can pay the maintenance fees, even as a "guest". How does that work? Does the payer receive the right to the patent or does the company/legal entity still "own" it?

Is this research going anywhere or am I way off base?

Thanks everyone.
https://assignment.uspto.gov/patent/index.html#/patent/search/resultAbstract?id=6899333&type=patNum
This site has the actual documents you can look at. It's amazing how much stuff you can find online! I don't understand much of it, but it appears as though the patents in question (assuming they are the ones relevant to Pirates, perhaps the license is the only thing that matters) are still in NECA's possession. (looks like they switched banks in 2015, IP "security agreement")
From the Contacting NECA thread:
godmason wrote:
Do we know when the company's exclusive rights to the property expire?
Probably not for a while. After some reasonably deep digging last year, I MAY have located the patent or patents that apply to Pirates.
At the time the fees due this year hadn't been paid, but from this you can see that they have now been paid, albeit with a late fee. (and now I see this so it doesn't look like we could have just bought it out anyway)
It seems that this latest "11.5 Year Window" is the last one listed, but I don't know what it means or when it potentially expires.
I just went and downloaded the Patent Term Calculator and filled it out the best I could. I found out that most patents expire 20 years after the filing date. From the calculator, it says the patent may expire on September 13th, 2022. (disclaimer: this is assuming I'm even looking at the right patent in the first place, but either way it seems like a "Pirates patent" would expire by 2024 since the game first came out in 2004) I don't know if NECA/WK can renew or extend it from there, but I do see this:
Quote:
An expired patent can only be renewed through an act of Congress, and in rare cases, a patent may be extended for a few years.
So hopefully that wouldn't happen. I don't know if there are other ways for them to get around it and find loopholes.
~
Messages Regarding the Return of the Game
This is my message to Wizkids and their response in April 2017:
Message back from NECA after sending them the same message about the survey results:
More from the Contacting NECA thread at Miniature Trading
My message to Wizkids about the SCS set going for $482. Said their page had seen it, no message back. (the link DID go to the expired listing, it's just that eBay has changed their site a bit and now try to link to "suggested" active items when you look at ended auctions)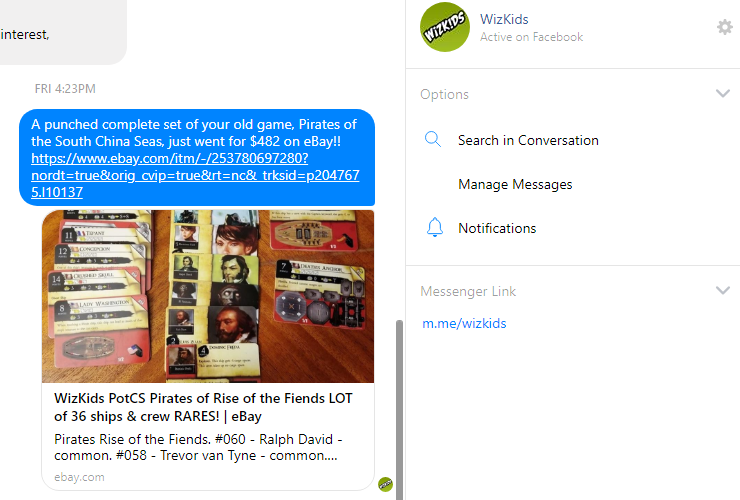 More promising, some messages between another member of the active Facebook group:
irishbandit89 wrote: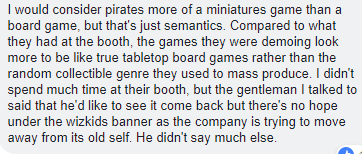 And finally, possibly the most promising, another member from here and FB got an interesting response back:
juulm wrote: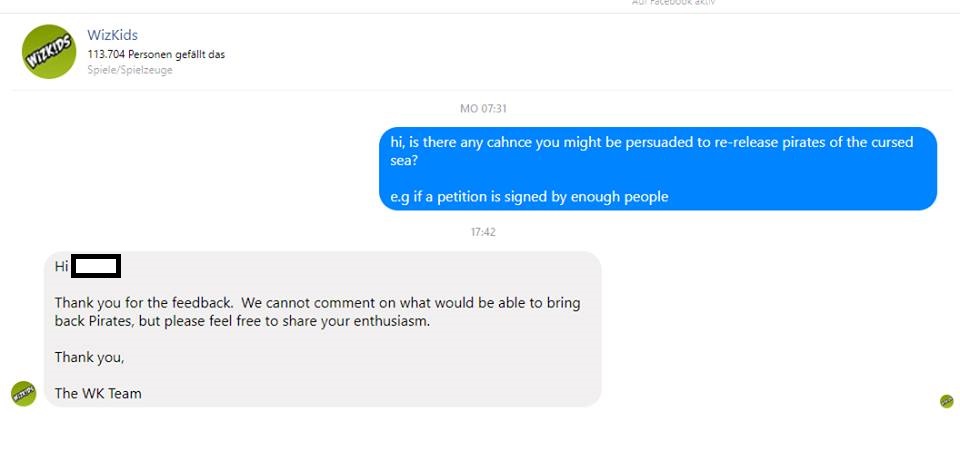 So at this point, we should "share our enthusiasm"!
NECA Facebook page
Wizkids Facebook page
At this time it is worth a reminder that a Petition to NECA was started and signed back in 2011, but nothing really came of it.  (new petition here)
Some other threads worth checking out from the Thread of Threads:
Could WE restart Pirates?
How did they do it?
Please leave a comment below with your thoughts on this!  In addition, if you have any potential solutions, go ahead and share!  Additional questions for the legal side of things that I haven't thought of are also welcome.  Thank you!!
Ben