All Spanish on a Spanish Main
Originally published to Miniature Trading on May 18th, 2018
40 Points
Basic SM-only and Spanish-only fleet made for a youtube tutorial video.
Aguila is the flagship and main hybrid. Corazon is not really a "hybrid" but will try to get a coin somewhere with her open cargo space. She can also escort the Picador, which is the main gold runner.
I know this is not an optimal fleet even given the restrictions, but after 400+ games how can I not be sick of joya joya joya. 
 All the ships have space for gold, and all have rowing potential. Mostly just made as a demo for the video.
Edit: Now I've tested the fleet out!
A game was played between myself and Megabyteknight! You can hear this awesome mix that I just found.
Megabyteknight went first with a mix of factions:
Raven's Neck + captain, helmsman
HMS Victor + helmsman
Peacock + explorer
I used my new fleet "All Spanish on a Spanish Main", which exists because of a youtube fleet making tutorial I made.
He set up a tightly packed arrangement of islands, with 3 coins per wild island.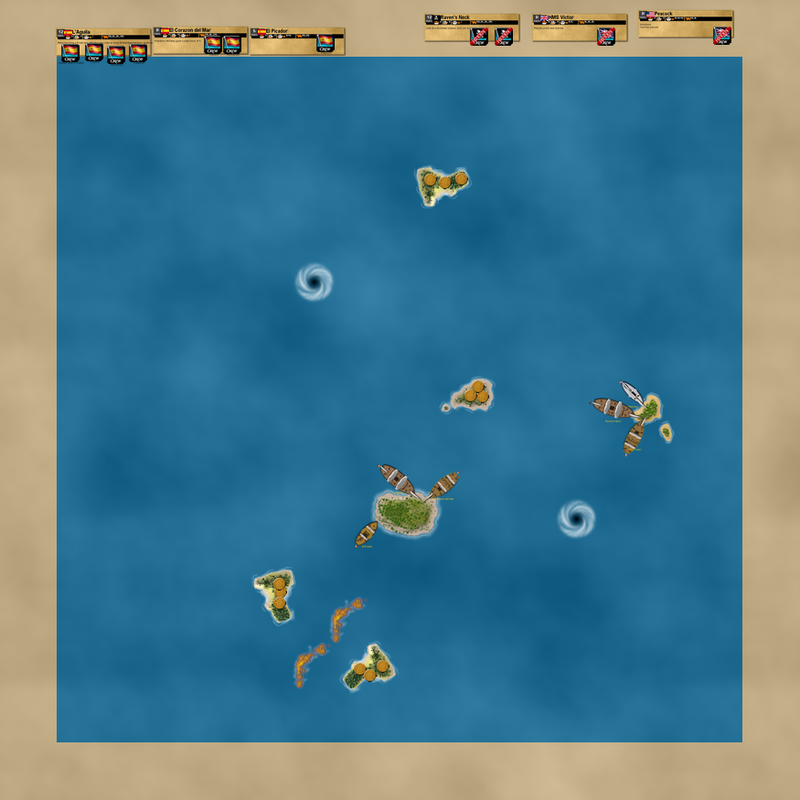 The action got started on the first turn, with the Corazon del Mar knocking a mast off the Victor!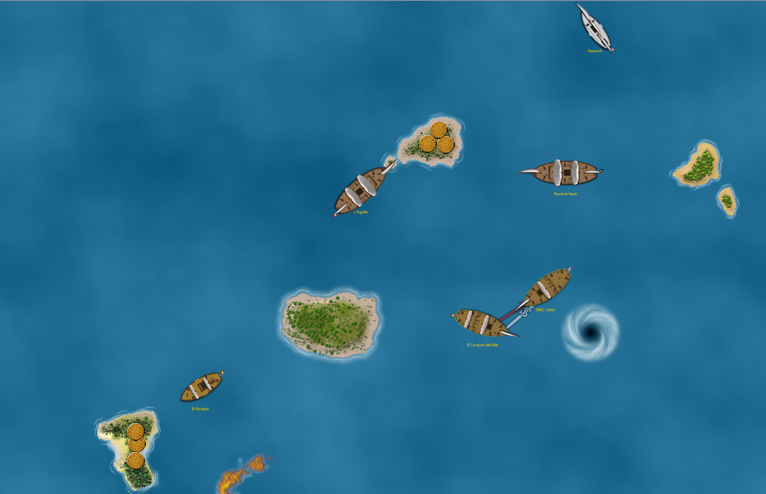 The battle only intensified, with the Raven's Neck and Aguila trading blows. Inable to perform at his best (I didn't get the SAT roll XD), Capitan Castro piloted the Aguila the short trip home, knocking a mast off the Raven's Neck on the way to safety. The Corazon and Victor traded hits before the Corazon moved in for the decisive blow by getting broadside and hitting 2/3!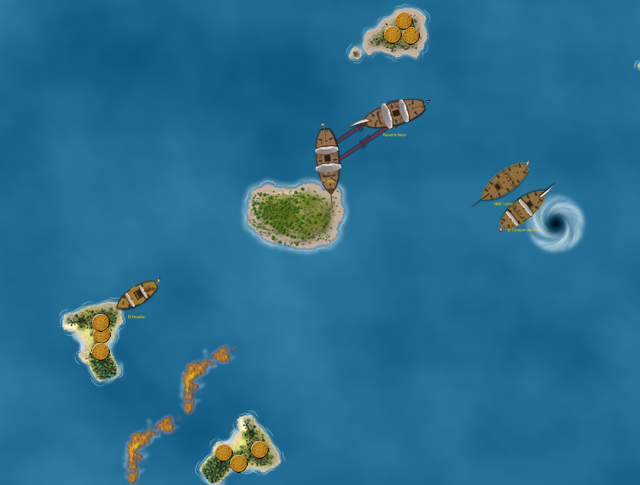 With the Raven's Neck gathering gold at an island and the Victor with only 1 mast standing, the Spanish decided it was time to strike with maximum force! The Corazon del Mar sailed over to the Raven's Neck and improbably hit 3/3 to dismast the ship! This was a devastating blow to their cause, but it only got worse. With no need to capture the Raven's Neck right away or finish her off, L'Aguila sailed over to the Victor and promptly sunk her! This was a weird and unlikely case where the fleet with the advantage was able to switch targets in a 2v2 setting.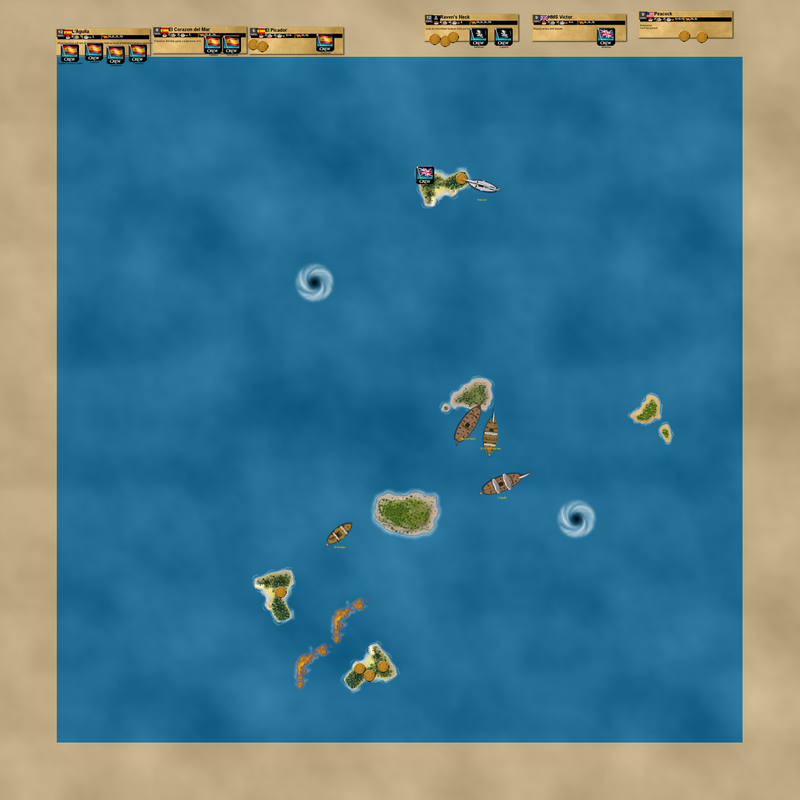 With the Raven's Neck captured and brought back to Spanish waters, and the Peacock the only ship opposing the Spaniards, the game was all but over. Some coins were unloaded, and the Spanish had won a 10-5 victory!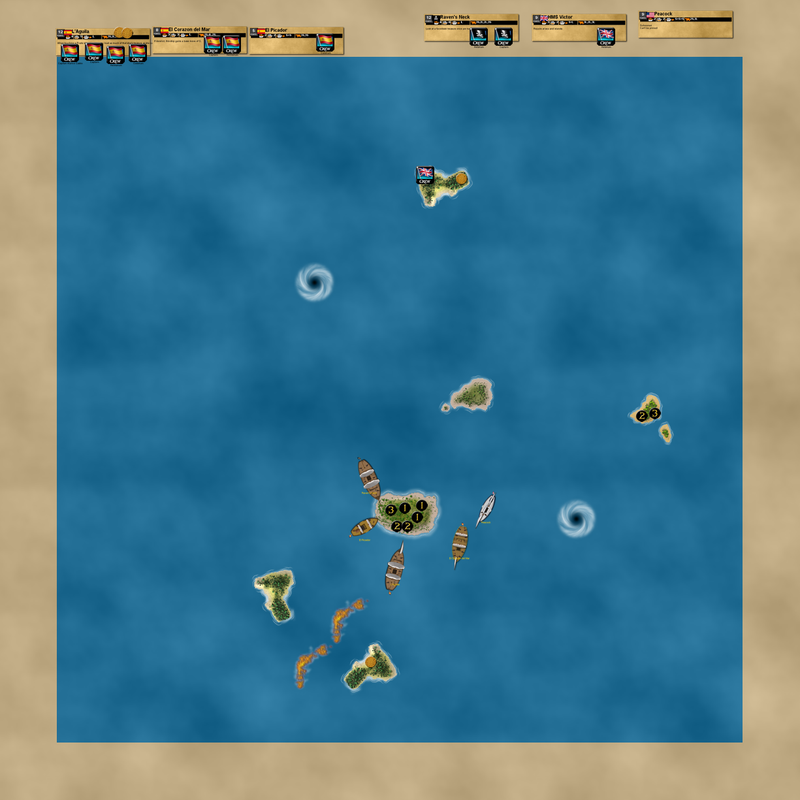 Not bad! I even forgot Castro's SAT roll on every turn but one, so this fleet has some potential.
Section: Ship #1 (5 miniatures)
Miniature
Set
Number
Type
Rarity
1
x
Capitan Alarico Castro
PofSMU
085
Crew
R
1
x
Captain
PofSMU
106
Crew
U
1
x
Helmsman
PofSMU
111
Crew
U
1
x
L'Aguila
PofSMU
075
Ship
U
1
x
Oarsman
PofSMU
117
Crew
C
Section: Ship #2 (3 miniatures)
Miniature
Set
Number
Type
Rarity
1
x
Captain
PofSMU
106
Crew
U
1
x
El Corazon del Mar
PofSMU
082
Ship
C
1
x
Helmsman
PofSMU
111
Crew
U
Section: Ship #3 (2 miniatures)
Miniature
Set
Number
Type
Rarity
1
x
El Picador
PofSMU
083
Ship
C
1
x
Oarsman
PofSMU
117
Crew
C